Kweng Alloys Private Limited, beside manufacturing sealless / Glandless Magnetic Drive Pumps for Chemical & Allide industries and Magnetic Bottom Mounted Mixers for Pharmaceutical Processes also offers a vide range of Top Mounted Magnetic Agitator Drives for Process Industry, Laboratory Reactors, and Pressure Reactors with Magnetic Drives for Laboratory.
Kwang MDTA Series Sealless Magnetic Agitator Drives works on the principle of "non-contact transmission of torque".
The biggest advantage of the Magnetic Agitator Drive is that it will enable the total integrity of the vessel. The Magnetic Agitator Drive will absolutely prevent any contact between the outside & In-tank atmospheres by the application of hermetically sealed ISOLATION SHELL, thereby resulting in a "ZERO LEAKAGE" system.
Kweng MDTA Series sealless Magnetic Agitator Drives are designed for CIP (Cleaning in Place) and SIP (Sterilization in Place) and complies with the most stringent cleanability and sterilizability requirements. They are used in hygenic & sterile processes for pharmaceutical industries.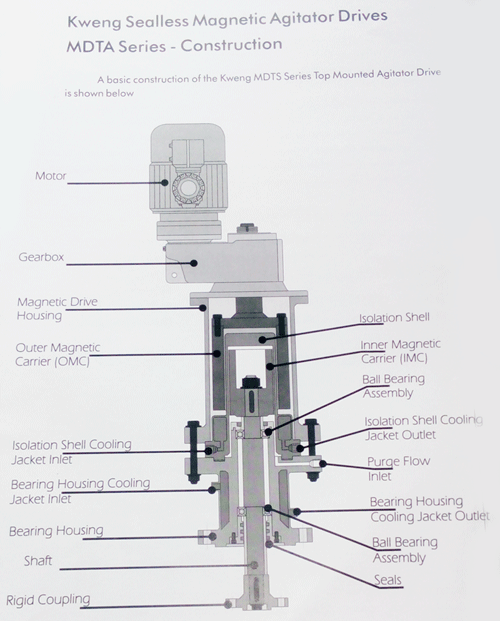 Kweng MDTA series Sealless Magnetic Agitator Drives are also designed To High Pressure High Vacuum & High Temperature applications pertaining to operations in Chemicals, API, Petrochemical & allide hydrocarbon industries.